What you can do
Here are three projects that you can carry out to try your hand at some practical astronomy. These could be things you carry out on your own, with your family, at school, with an organised group or involving the entire community.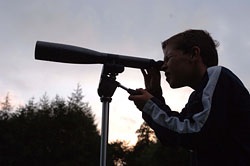 Light Pollution Survey
How dark are the skies above you? Find out by taking part in a global light pollution survey. Just spot the constellation Orion, count the stars you can see, send in your results - and see how you compare to places around the world.
Globe at Night invites schools, families and communities around the world to carry out light pollution surveys during March every year.
Constellation Project
This project uses astronomy to bring together the science and history in the stars. Imagine you are standing on the North Star, looking at Earth through a giant telescope... Is this really possible? What would you see? Amazingly, if this could be done, you would see life on Earth in the year 1578! It's all because of the speed of light - find out more with the Dark Sky Scotland Constellation Project.[Word Doc/52KB]
The Highland Constellation Project ran as part of Highland 2007, Scotland's Year of Highland Culture.
Robotic Telescopes - bring live images (and a little bit of Hawaii) into your classroom!
Take control of a research standard telescope at one of the world's top observing sites - and bring images of galaxies right into your classroom. How about staging a live observing session for pupils and parents? Our overview of robotic telescopes shows how you can do this with projects like the Faulkes Telescope.
The Dark Sky CPD workshops for teachers aim to help teachers use these and other practical astronomy activities to enrich science education for pupils in their community.
Astronomy Introduction
If you need a nice easy introduction to astronomy, you can find it with a booklet specifically designed to take you through the first steps of practical astronomy. With simple star-charts and advice about what to wear and what to look at, these will get you started.
Things Are Looking Up Booklet [PDF/3.12 MB]
Simple Winter Stars [PDF/60 KB]
Simple Spring Stars [PDF/60 KB]
Simple Summer Stars [PDF/60 KB]
Simple Autumn Stars [PDF/60 KB]
Star Umbrella Activity
This is a fun activity for younger children and the young-at-heart. The sheet shows the relative positions of the northern stars, on the outline of an umbrella. If you have a plain umbrella, a few sticky stars (obtainable from any stationer) and a bit of patience, you can create your very own fold-up planetarium of the northern sky. Spin the handle (anti-clockwise) and reproduce the apparent motion of the night sky round the Pole Star.
Star Umbrella Activity Sheet [PDF/704 KB]